Corporate Site Renewal
New Website Focuses On Accessible Content
CellBank (accredited cell processing company in Kachidoki, Chuo-ku Tokyo; CEO Motoharu Hojo) completed its full corporate website renewal on Wednesday December 1, 2021.
CellBank's ongoing renewal project focused on creating an integrated design to make it easy for clinics and potential patients to learn about the company's services and business goals. As Japan's leading company in regenerative medicine, CellBank provides clinics with carefully cultivated cells for high quality regenerative treatments so patients all across the country can enjoy the healthiest lives possible.
With this corporate renewal we aim to provide even higher quality support services for accessible regenerative medicine, now and into the future.
▼Our Official Website 
https://www.cellbank.co.jp/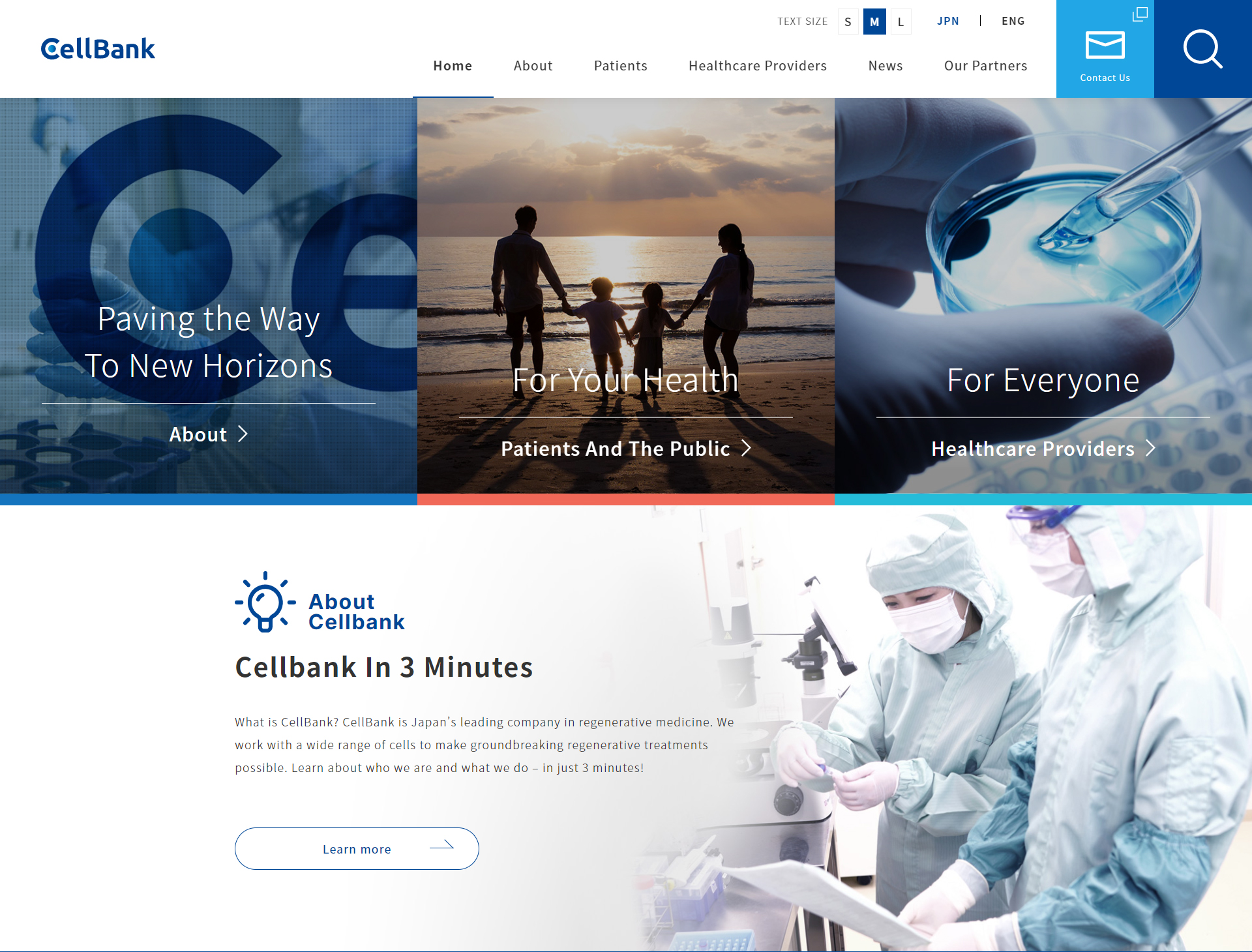 Renewal Goals
At CellBank we focus on making high quality regenerative treatments accessible through continuous research & development. Our renewal project is a way to bring regenerative medicine to the public by sharing our story and our research. Moving forward with our corporate site renewal, we plan to make accessible information a big part of our work as Japan's leading company in regenerative medicine.
New Features
2.
For Patients And The Public
Info on regenerative treatments, cell cultivation and cell storage – for patients and anyone interested in learning more about regenerative medicine.
https://cellbank.co.jp/en/general/
Ongoing Projects
Our corporate site renewal is just one step towards our future at CellBank. Building on existing research, we're expanding our cell storage capabilities to provide an even greater variety of cells for new regenerative treatments. When we first started our work focused on dermal fibroblasts for regenerative skin treatments. Now we provide a wide range of cells including adipose-derived stem cells for osteoarthritis and natural breast augmentation. Regenerative treatment is still a rare orthopedic option for osteoarthritis, but with new research developments regenerative treatments are sure to become an accessible alternative to surgery for patients with osteoarthritis of the knee. We're also working with endometrial stem cells, cardiac stem cells, cancer-resistant cells, and more. With countless new possibilities for treatments we hope our work here at CellBank will make regenerative medicine accessible for anyone, anywhere.